In the AddaLine app you have the option of using the default ringtone, or if you prefer, a custom one.
To change the ringtone to a custom one, follow these steps:
For Iphone: 
1) Open up the app where your custom ringtone is saved. This can be any of the popular storage options such as Dropbox, Google Drive, iCloud Drive etc. This guides assumes you are using iCloud Drive, but the general idea is the same with whichever storage provider you use.
2) Long press the desired audio file you want to use as a ringtone.
3) Press share 
4) Press Import with AddaLine
5) Press OK when the prompt asks you to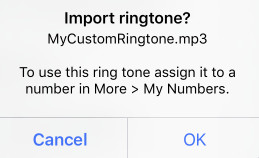 6) In the AddaLine app, press More > My numbers > Select the number you want to edit > Edit on Default ringtone.
7) Select the newly imported ringtone.
For Android: 
1) Go to More > My numbers > Select the number > Edit ringtone
2) If you have already imported the ringtone you want, then select it in the list. Otherwise press Import   ringtone
3) Find the ringtone you want to use in the phones storage / DropBox / Google Drive etc and press it.
4) Select the newly imported ringtone in the list.
That's it! You are now using your newly imported custom ringtone. You can test to see if this works by having someone call your AddaLine number.
You can have a separate ringtone for each of your numbers.
If you have an issue with importing the ringtone, make sure the ringtone is in one of our supported formats: .mp3 or .m4a.
Please contact our support should you have any other questions or concerns at www.addaline.com/support